Second Mile is located on the outskirts of Cap Haitien, Haiti's second-largest city, in the commune of Milot, home of the great Citadelle a 19th-century fortress around the time of the Haitian Revolution in 1804.
Cap Haitien has a population of nearly 300,000 and the city is outfitted by a power grid that provides electricity with varying degrees of dependability.
As you leave the city, access to power becomes a thing of the past. In the evenings, spots of light signal wealth, people who have access to batteries, generators, and inverters, or communities that have cobbled together the funds to purchase a solar panel or two for charging battery-powered lamps.

More specifically, Second Mile Haiti is located in the community of Jean Louis.

While the population of Jean Louis isn't formally documented, there are roughly 1000 people living on either side of a road, pocked by dips and divots, created by too large trucks and the trampling of cows when the road is softened by heavy rains. It takes about 3 minutes to drive through Jean Louis, 10 minutes by bicycle, or 20 minutes on foot. There is one school and one church that share the same building. And once the sun sets, there is no light.

On Friday, March 19th, that changed.
The idea came only days before when Jenn, Second Mile Haiti's Executive Director, and Herode, Second Mile's Operations Manager were driving back from the construction site of the new campus in San Raphael. They were discussing ways to improve the community of Jean Louis, and couldn't stop thinking about light.
So many of us take light for granted. When we want it, we flip a switch on. When we don't, we flip the switch off. We install dimmer switches to give us just the right glow. We buy alarm clocks that mimic the rising of the sun. We have so much power at our fingertips, we can go months and years without giving it a single thought.

The same is not true for the people of Jean Louis, where the option to pay an electric bill doesn't exist, where charging a cell phone takes planning and foresight, and where darkness is just one more way life has been made harder in Haiti. According to a World Bank feature story in 2014, only 11% of Haitians living in the countryside have access to energy. Unfortunately, not much has changed since the time of that story was written.

There was a time when Jean Louis had three solar-powered street lights. They were large, tall, and outfitted with detachable panels that soaked up the sun's rays.

They were gifts from the United Nations, placed there in 2015. One in front of the school. One in front of the Malnutrition Center, and one at the carrefour, the mouth of Jean Louis where it intersects with a neighboring village, the entrance to the community.


The only one that remains in the one that sits right in front of the Second Mile Haiti Malnutrition Center where it is protected by the presence of nightly security.


It is not the community's fault that they went missing. Sadly, three solar lights just weren't enough to invoke the added benefit of security that light can provide.

The panels were taken within a year of the installation. No one could see the thieves. Upon disconnecting the lamps they were once again protected by the darkness of night.

So what could be done differently? How could we restore the light that had been given for a moment but taken just as quickly?
As this question remained top of mind, Jenn and Herode noticed a new type of solar lamp while driving through a town center on their way to the San Raphael construction site Monday morning. The lamps were smaller than the lamps installed by the UN. And while they appeared to be solar-powered, how else? They didn't have a visible panel. Furthermore, there were so dozens of lamps, placed at what appeared to be a very intentional distance, and none seem to be missing.

Jenn couldn't wait to return to the town center to start asking questions.

On the way home from the construction site that's exactly what they did. The people they asked had nothing but good things to say about the street lights and confirmed that they had been installed 12 months ago and that none had gone missing.
"Only 11% of Haitians in the countryside have access to energy compared with 63% in the cities.

Armed with photos of the lamps, Jenn and Herode began scouring Cap Haitien for a similar model. It didn't take long to discover that a similar project could in fact be conducted in Jean Louis for a price that was not prohibitive.


The idea was simple and the rationale was sound, install a lamp without a detachable panel. Install enough lamps to deter theft. Install them quickly so that the entire community could benefit all at once.
We purchased two test lamps that same day. By Tuesday it was confirmed. The lights worked!
On Wednesday and Thursday we spent the day purchasing the rest of the materials. 20 solar lamps, 20 posts, sand, cement, wood, and welding equipment.
On Friday morning it was go time.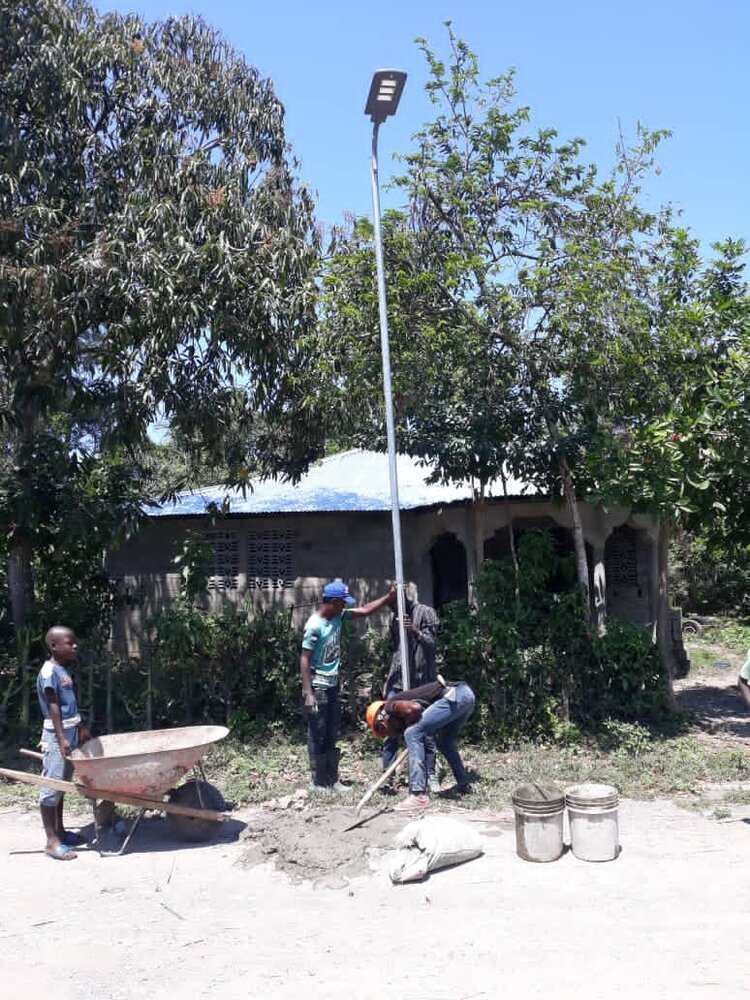 As always, Second Mile team played a major role. Louino, Herode, and Jenn mapped out a path for 20 solar lamps to be installed on alternating sides of the street, 100 feet apart while bosses from the community dug holes and prepared the cement.

With a generator stationed right in the center of Jean Louis, Jose did the welding, attaching the lamps to the 20-foot metal posts.

A team of 2 local bosses with 2 trowels, one level, and 20 volunteers from the community, all 20 lamps were installed in a span of 8 hours. Kids from the community transported wood and nails up and down the street. The local school produced wheelbarrows and shovels. When a hammer became necessary, one appeared.

According to Jenn, it was the most magical day in Haiti to date.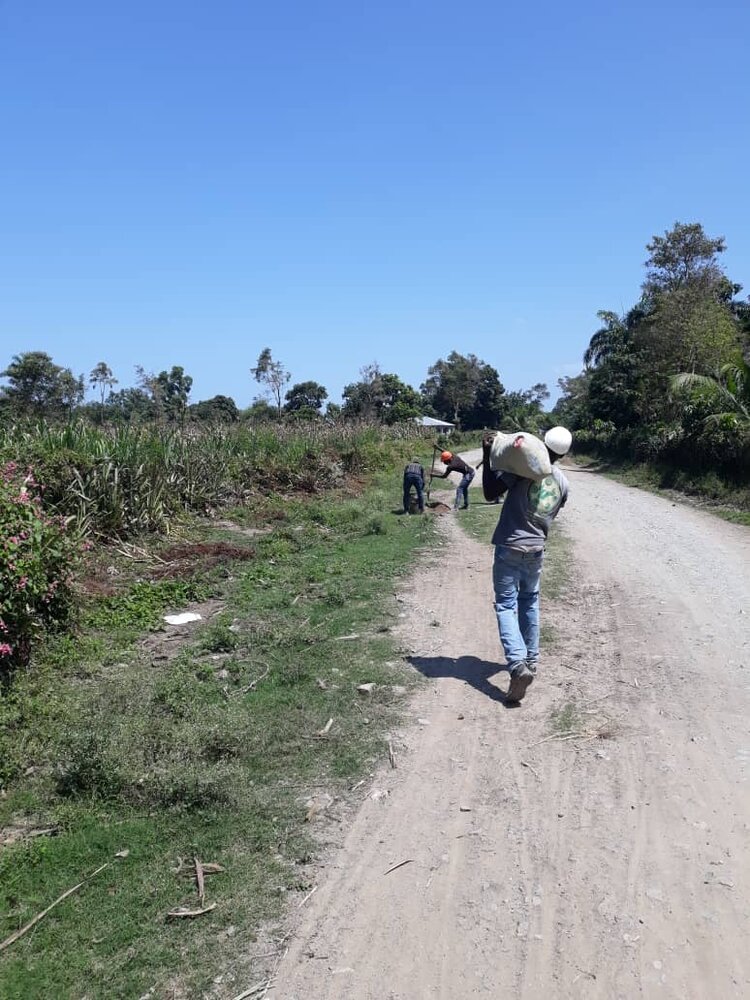 What was perhaps more magical was taking a 7 pm stroll through the village where kids as young as six were still playing in the street.
We heard a range of comments throughout the day as community members realized what this light would mean for their everyday lives. Earlier in the day, as the lamps were still be erected one-by-one, a group of women talking amongst themselves was heard saying "If this works, we'll be able to sell things at night." A man said, "if they try to take one, we'll see them." A young girl being told to hurry home due to impending darkness, was heard protesting to the teenager who had rushed her, "but there's light now."

This final comment was the most telling. Light will bring increased freedom and opportunity for the women and girls of Jean Louis. For this alone, a long day of work and the cost of the installation, just $3,200 was worth it.


It has only been recently that these solar lamps became available in Northern Haiti, thanks to the arrival of a local hardware giant called MSC plus. We are immensely grateful for the development opportunities their presence brings to the area.
We are also grateful to have support from funders and a board of directors that trusts us to act quickly when opportunities like this one present themselves.
There are villages just beyond Jean Louis who could benefit greatly from the expansion of this project, and we have hopes of installing solar lamps there as well.

After all, everyone deserves light.
If you are interested in contributing to this project you can make a donation via the website or contact Jenn at jenn@secondmilehaiti.orgAugust 16, 2020
Hi friends! Jenn here.
Well, let's just get right to it. We're expanding. Insert all the happy emojis here.

If you have been with us for a while now, you know that Second Mile operates a Maternity Center and a Malnutrition Rehabilitation Center in Jean-Louis, a rural area outside Cap Haitien, Haiti. The Malnutrition Rehabilitation Center came first, as it's doors opened in 2013. Since then, more than 700 families have stayed in the 7-week residential program. Through your support, we've helped 420 women start businesses and more than 600 children recover from malnutrition.
In 2017, we built the Strong Start Maternity Center which began providing prenatal, postpartum, and family planning services the following year. We followed that by opening the birthing wing in March 2019. By now, the team of midwives and nurses here have conducted over 5,000 visits and 199–wait, make that 200!–births.
If you've been with us on this journey, you probably know that it hasn't just been about business and recovering from malnutrition and giving new babies a Strong Start, we also grow food, provide community education, and raise goats. I always seem to forget the goats! In 2016, we started a program where community members could learn about malnutrition prevention and receive goats to help generate income for their families. Close to 400 adults have participated to-date. This area is filled with thousands of thriving families (and thousands of baby goats) thanks to you.

Through it all, we have continued to evaluate and improve our existing systems so that kids, parents, and families get the very best care. And you can be sure that we've continued to dream (and scheme) in the background.
Our programs have worked so well, they have gained praise from government officials and community leaders alike. Why is that? Well, because they have been very effective at reducing the number of children living in Haiti's orphanages.
So what's next?
We are taking all of our programs and expanding to San Raphael, Haiti. San Raphael is a 70-minute drive (22 miles) from our existing facilities. We will be building one center, a Family Centre, that combines our maternity and nutrition services, and community programs. Despite everything that has happened so far in 2020 our partners, McPherson Family Foundation, told us "don't take your foot off the gas." We are thrilled to say they will be partnering with us to build the San Raphael Family Centre.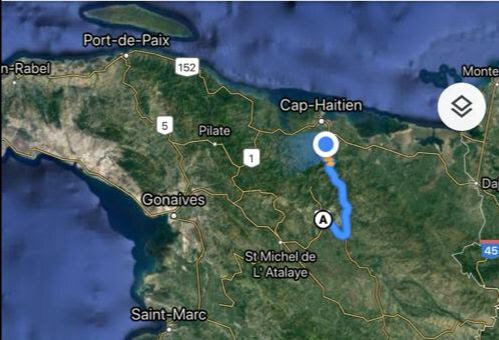 You might think it's a bit quick, but actually, we have been dreaming about replicating our model for years. Through every decision, big and small, we've asked ourselves, "Will this be replicable?" We are only satisfied when the answer is yes.
This expansion has been a few years in the making. Now it's just (finally) "go time."

Here's what's happened so far:

In March, our team conducted a Needs Assessment in the San Raphael area in order to hear from the community and learn more about their needs. Over the course of a month, we collected and analyzed survey responses from 100 mothers. Here's a glimpse of what stood out to us:
Less than 25% of the women surveyed had completed primary school (K-9th) and only 3% completed high school.
65% of people do not have consistent access to safe drinking water
42% of respondents have lost at least one child, and 20% have lost 2 or more children
Of the children that died, 84% died before the age of 5. This just shows the importance to continue following-up with children until the age of 5 (like we do at the Jean-Louis Nutrition Center)
88% of all births happened at home
94% of women chose to breastfeed their last child (this is great!)
74% of families introduced foods or liquids other than breastmilk before the child was 6 months (a practice that can lead to infection, diarrhea, malnutrition, and premature death in children)

This information, along with future community meetings, will be helpful as we continue to tailor our programs to meet the specific needs of the community of San Raphael.
In May, we officially signed the land papers. In August, we will break ground! After that, our first priority will be maternity and family planning services (including prenatal and postpartum care and midwife-assisted birthing space). If all goes to plan, these services will start by the end of the year.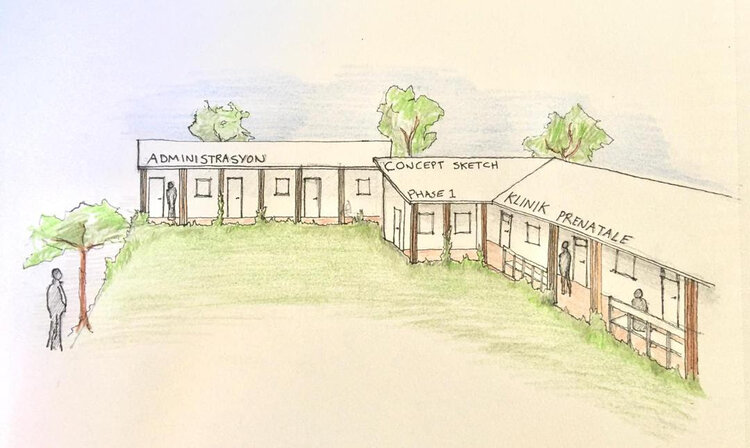 Local healthcare workers have insisted on maternal health care as the number one priority. Currently, the nearest maternity service is in the neighboring town of Pignon (35 minutes away) and there is no reasonably priced method of transportation between the two cities.
Before I sign off, I want to tell you how much I appreciate your support. I am thankful to be surrounded by board members, volunteers, donors, and supporters that continue to push our team to reach new heights. I was first told that Second Mile's model for supporting families should be replicated throughout Haiti back in 2015. Today, I get to share the good news: we are on our way.

Sincerely,